No school. Mandatory work-from-home. No extracurricular activities. Not even church.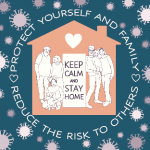 Monday, March 16, 2020
Health Status:

No symptoms

Family Relationship Status:

Good

Fun Events now Canceled:

I was going to take my daughter to see Wicked on 4/2. We had front row seats. Luckily we can get a refund and I guess we'll catch it next time.
My husband was supposed to run a 50K trail race in Indiana this coming weekend. The race is canceled. We are hoping the cabin he rented for the weekend will refund him.
My husband and I are two of the lucky ones who are able to work full time from home. I can't imagine having to worry about losing my job, even temporarily, and I am definitely thankful I don't have to try to find child care as child care centers start to shut down. 
My daughter K is 11 and in 5th grade. Her school will be sending daily assignments to be done on paper/in workbooks or on Google Classroom. They have a 30-minute live chat session every day with the teacher and other students in the class. So, for now, she's covered too.
I think it really hit me yesterday how much impact this social-distancing isolation really is going to have. My daughter K was going stir crazy in the house already and wanted to ride her bike. She asked if she could pop over to her friends' house around the corner to see if they could go riding together. I almost automatically said yes, and then it hit me that wait…play dates and hanging out with friends isn't allowed. Boy, was she bummed out. In the end, I suited up (aka put on some jogging clothes) and went out with her. We circled our neighborhood a few times, spent about a half hour getting fresh air, bike riding, and me walk/jogging along. It was fun, and likely will have to be repeated many times over the next few weeks to keep us all sane.
Get fit, or get fat?
Being trapped inside/at home for weeks on end with nothing to do except work/schoolwork makes for an interesting situation, health-wise. I suspect that many people (myself included) will have to make a genuine effort to not gain 20 pounds because we're sitting around all day long and eating all our hoarded food.
I'm a perfect example, actually. I'm not fit; I need to lose about 40 pounds. At least when I go to the office everyday I am walking to and fro, going to conference rooms, to talk to people, or other bits of movement. Working at home? I am apt to sit at this desk in my office and leave it only to refill my coffee cup.
So, I am making the conscious choice to not gain weight during our lockdown, but to use this to my advantage. Maybe during my lunch period, something I normally don't bother taking at the office at all, I can go for a quick jog. Maybe now that I won't be dragging home at 7pm after a 10+ hour day, I can take a break at 5pm and take K for a bike ride/jog.
We have a cruise scheduled for the last week of May (fingers crossed that it won't get canceled). I'm going to go with the "Get Fit" plan.
Save money, or spend a lot more money?
Something else occurred to me last night as I was browsing online for things I don't need. Now that we're supposed to stay away from stores as much as possible, will we start spending more money online than we would've previously?
Many things would cause this:
Boredom
Ooh look, a 48-pack of sparkly gel pens is on sale! We have nothing to color, but those should always come in handy, right?
Maybe the kitty needs a new bed.
Misguided sense of necessity
A 48-pack of toothpaste for only $40!
Socks! Socks on sale! We always need socks!
Overestimating family bonding during isolation
Look at all these board games! We should totally start having a family game night every night while we're stuck at home.
1001 Crafts for All Ages! What a great idea!
Bottom line: Watch the online spending!
In conclusion, good luck to us all. May your isolation be as stress-free as possible, and may your family closeness stay in the green and not progress to the "kill each other faster than a virus ever could" state.